Police Chiefs on the Hot Seat at Sept. 20 Panel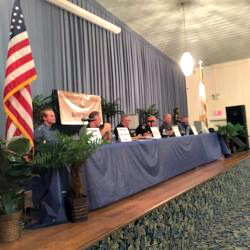 More than 150 people hear Cape area police talk about their commitment to good community relations
SDARJ hosted a panel of police chiefs from Cape area departments at 7:00 p.m. on September 20, 2016 at the Trinity Faith Christian Center in Lewes.
The police chiefs fielded tough questions about relations with the African-American community and talked about their positive and pro-active initiatives to protect the safety and well-being of all citizens.
Highlights of the meeting are in an article from the Cape Gazette. Watch TV coverage from WRDE (NBC) and WMDT (ABC), who covered the event and opened their 11:00 pm newscasts with our story.