Attorney General and Chief Defender face off in Nov. 15 Forum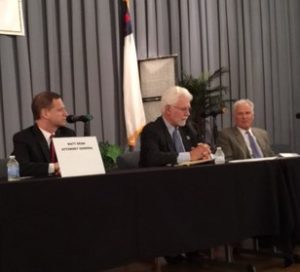 More than 100 people came to hear Attorney General Matt Denn and Chief Defender Brendan O'Neill talk about "What Happens After You're Accused of a Crime in Delaware"
SDARJ hosted the panel moderated by Drew McKay on November 15, 2016 at the Trinity Faith Christian Center in Lewes.
Attorney General Matt Denn and Chief Defender Brendan O'Neill talked about the challenges facing the state's criminal justice system, including scarce resources for much needed reforms.
Highlights of the meeting are in an article by reporter, Melissa Steele from the Cape Gazette. Watch TV coverage from WRDE (NBC) and WMDT (ABC), who covered the event and featured our story during their 11:00 pm newscasts.