Mission
The SDARJ is a non-partisan organization educating, informing, and advocating for racial justice, equality, and fair opportunity. We are a consortium of Sussex County citizens committed to Civil, Racial, and Political Reform.
News
For older entries, please see 'News' page.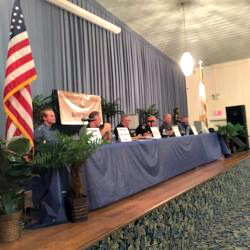 More than 150 people hear Cape area police talk about their commitment to good community relations
SDARJ hosted a panel of police chiefs from Cape area departments at 7:00 p.m. on September 20, 2016 at the Trinity Faith Christian Center in Lewes. The police chiefs fielded tough questions about relations with the African-American community and talked about their positive and pro-active initiatives to protect the safety and well-being of all citizens.
Highlights of the meeting are in this article from the September 23 edition of the Cape Gazette. Watch TV coverage from WRDE (NBC) and WMDT (ABC), who covered the event and opened their 11:00 pm newscasts with our story.
Read More >>
SDARJ Goals
Educate for change through knowledge and understanding of past and current racial issues and conditions.
Enrich our cultural environment through multi-racial collaboration.
Address racial and criminal injustice and advocate for ways to improve the criminal justice system in Delaware.
Collaborate with like-minded groups to challenge structural and systemic racism.
Promote positive change for the future of our youth.
What We Do
Sponsor programs and develop materials to educate SDARJ members and affected individuals / families, and the general public regarding racial and class disparities in the criminal justice system, causes and effects of mass incarceration, and the need for reform to ensure equal treatment for all.
How to Get Involved